What will I learn at a mosaic workshop?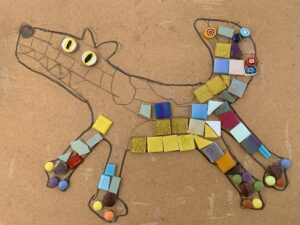 If you are interested in signing up for a mosaic workshop and would like a bit more information about what to expect, please read this ! It should answer all your questions !
We are currently running a course called Make a mosaic in an afternoon. This course is running at the delightfully quirky  Trylla ceramic studio and shop in Bedminster. I like to make clay includes to use in my mosaic work, and Alice who runs Trylla fires these pieces for me in her kiln. The studio is the ideal location as there is plenty of space for social distancing and a lot of light coming into the studio from the windows. The class is limited to six students which guarantees that everyone will get individual attention and also that there is enough space to ensure proper social distancing.
We start the class by giving out a pack to everyone containing everything you will need for the session. All the materials for your mosaic are included in the price of the course. After a short introduction about myself and my mosaic work I will then introduce you to different resources where you can learn about the history of mosaics and find inspiration for making your own designs. When we are ready to get started, I have a range of different designs and templates that students can use. Or if your prefer you can design your own template. I will show you which tools to use to cut the materials and how to use them safely. Soon you will be cutting your materials like a pro! There are many different styles and approaches to mosaic making but the good thing is that if you know a few basic rules you can make sure your mosaic works well as a piece of art. These rules are mainly to do with 'andamento' or how to lay the tiles to control the direction of the visual flow of the work.For the half day course we use a special glue to ensure it is possible to grout in the same afternoon, if you are ready to do so. I will demonstrate grouting at the end of the course. If you would rather not rush, you can take a little bag of grout back home with you and do it at your leisure. As a final note I like to make sure the students get a wide range of materials to use on the course, from vitreous glass, to ceramic tiles, to hand-made clay pieces, to beads, millefiori, and pieces of broken crockery.
The idea of the half day course is an introduction to mosaics so people get an idea of what its all about, and have an interesting absorbing experience at the same time. It will be hard work but relaxing at the same time ! After doing this course you can sign up for a longer course, or a more specialised course. Details of these will be available in the new year. If you would like to sign up you can do so on my website here, or on the Yuup Website here.
If you have any further questions about the workshops you would like to ask me, or any special requirements please contact me on my email: aliyah@aliyahgator.com or my instagram account @aliyahgator.